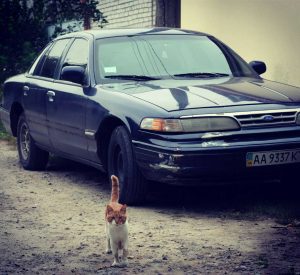 Hey, bro!
I know you're a fan of Panthera just as I am and will understand me as nobody else.
I'm a 12 years long and going proud owner of Ford Crown Victoria. And I'm from Ukraine. Me and my family planned to restore it to it's full potential in the spring of 2022, but, fate had different plans for us, our country was attacked and we had to think about basic survival and helping each other. Despite it's shape, our Crown Vic has helped deliver life-saving medications, move people who were bombed into a safety zone, survived the direst periods of the Siege of Kyiv.
Last winter, when our electric power plants were destroyed and we sat for weeks without electricity, we used our Crown Vic to charge our power banks to have at least something.
Unfortunately, it was damaged further by debris.
Crown Vic is our basic tool of survival and me and my family depend on it. We have a cold and dark winter ahead of us and are desperate about getting it fixed.
My family is really desperate and we are asking for your help.
If you can donate whatever amount of money to us to get our Crown Vic fixed, it will go a long way for my family and friends.
I will provide a report with pictures/videos about the process of repairs in my blog.
Please provide your name or nickname so I can thank you personally.
At this link you can donate to support the efforts to get Crown Vic fixed:
Bank (Card, GooglePay): https://send.monobank.ua/jar/7ULChChswe
PayPal: bobkasho@gmail.com
Dogecoin: DDZvxDwjFfENEf4DpBfUoATmVtZUb6j2K2
Litecoin: MG1jrNydbY5xhE3XKxRoR48dT4tMDbPcPL
Feel free to share this link if you know someone who can help us.
Thank you, bro!
For Your Message: